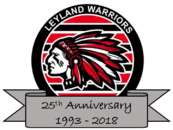 Leyland Warriors Rugby Club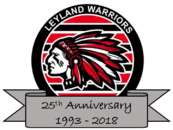 Club History
Leyland Warriors was founded in 1993 by a group of parents who wanted to provide rugby league opportunities for young people in South Ribble, a traditionally football-orientated area. The club was initially named Wigan Warriors, in recognition of the help given by the Leyland branch of the Wigan Supporters' Club. In 1995, the decision was made to change the club's name because of confusion caused. Shortly after this, Wigan RLFC adopted the 'Warriors' tag.
The club started training and playing at a local school, St. Mary's, but rapid growth meant that it was necessary to seek new facilities. The Council provided access to the fields at Moss Side and parents provided a Portacabin for changing rooms. In conjunction with South Ribble, the Warriors then applied for a National Lottery grant to develop the site. The bid was also backed by Wigan RLFC who wrote a letter of support to the government. In the second largest grant ever given to a rugby league club (at the time), £161,200 was awarded. South Ribble Borough Council contributed a further £86,500 and Moss Side Playing Fields were transformed into three rugby league pitches, with car-parking and purpose-built changing facilities.
From a small group of enthusiastic parents and their children, Leyland Warriors has grown into a thriving rugby league community and now has over 250 players, more than 20 coaches and a large team of dedicated volunteers. As Leyland Warriors is an amateur organisation, volunteers fill all of the roles within the club. Everybody works together to achieve what is best for our members and we're proud that we offer rugby to so many young people in the area.
Our Malt Kiln Fold site now boasts 3 full-size rugby pitches, 1 mod-size pitch and a training area, together with an extended car park with over 100 parking spaces. Our refurbished clubhouse contains 4 changing rooms, match officials changing, kitchen and a club room, in addition to a separate café. The development of the site is an ongoing project of which we are all very proud!
Social, News & Weather
PR26 7XU
Clear

-1°C
Wind
Humidity
3 MPH N
84%
Never miss an update
Follow the site to get the latest news and results straight to your email